VetComm Supports the National Center for Healthy Veterans
MISSION:
Return Healthy Veterans to America
Our veterans have pledged their lives for our freedom, security, and prosperity. 
Healthy veterans are productive members of society, good employees, and positive role models, but not all of our veterans are healthy.
General Dees Says "Get Rated Now... That's an Order!
The General's All Veterans Call to Action
It was important to VetComm that we have the support of the highest-ranking officials in the US Military. 
If you are in the service, then you know that a General is our highest-ranking official.  We thought we would start there! 
Kate met with Both General Dees and General Horne on her visit to Valor Farm.
The Generals both feel that it is your duty to go and get your disability rating handled, it is the next step in your service, that many have not yet completed. 
Once a Veteran is Rated for their Service-Related Injuries, they are eligible for many other Veteran Related Services to become better adjusted for civilian life.
Do Not Hesitate, Do Not Hold Yourself Back. Accomplish Your Mission to Get Rated Now!
Kate's Visit to Valor Farm
(National Center for Healthy Veterans)
Kate with General Dees & General Horne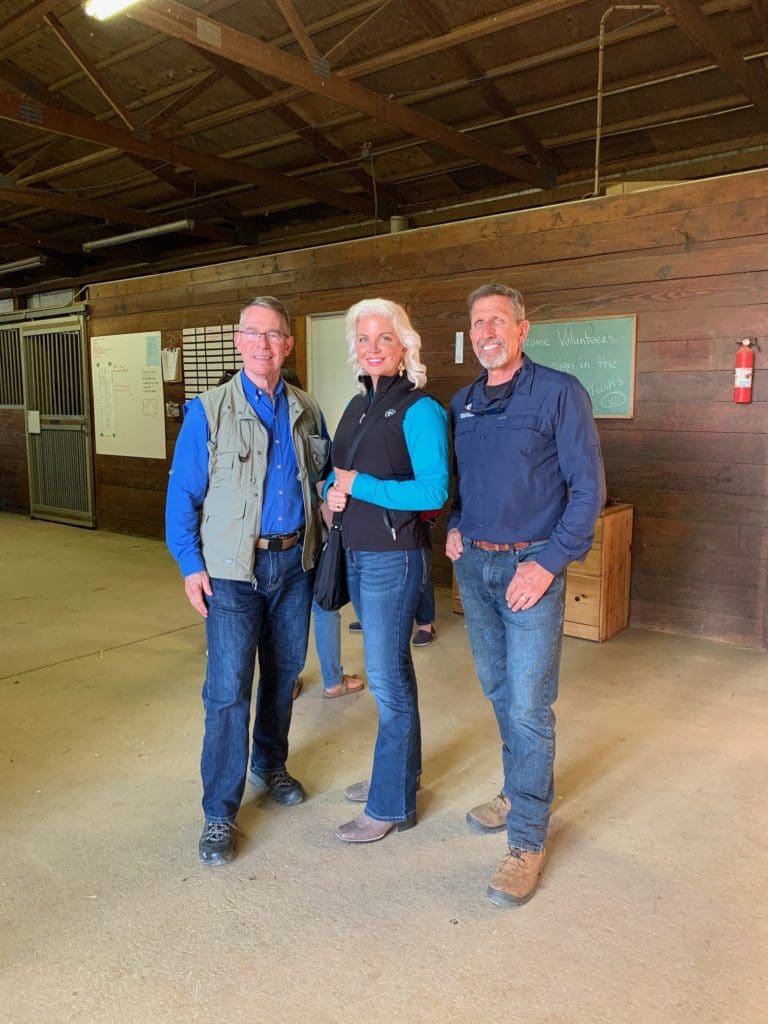 Kate went all the way from Her hometown of San Diego CA and flew to Virginia to go see first hand the NCHV at Valor Farm. She was absolutely blown away by the experience. She hopes that many of you will go visit one day and see for yourselves.
Valor Farm is over 300 acres of beautiful land dedicated to one purpose. That is to rehabilitate our veterans with PTSD, and send them back to their families whole again.
Kate had the pleasure of not only visiting the farm but also the Monument Terrace. There were vets gathered there from all wars and they have been doing so, every week for more than 20 years. 
Kate had an experience amazing of walking the farm, meeting the various workers and staff and participating in meals and conversation. She learned so much about the mission at the farm and was excited to get back to San Diego and begin our work at VetComm to support their mission.
Why VetComm Chose Valor Farm as our Primary Charity
Tragic Outcomes: Statistics Surrounding PTSD & Veteran Suicide
SUICIDE STATS
20+ veterans kill themselves every day in America – 7,300 in 2017 alone (National Veteran Suicide Prevention Annual Report, 2020).
344 active-duty members took their lives in 2019, the highest number since 2001 when tracking began (DoD, CY2019 Annual Suicide Report).
In 2019, 100 USAF Airmen have taken their lives (as of Sept. 21), a 62% increase over 2018 (Everstine, Air Force Magazine, 2019).
OTHER STATS
Over 37,000 veterans are homeless on any given night in 2019 (U.S. Department of Housing and Urban Development, Annual Homeless Assessment Report, 2019).
80% divorce rate for combat veteran families.
More than 20% of vets with PTSD also have a drug or alcohol addiction (National Center for PTSD, 2019-2020).
Many veterans have seen things none of us ever want to see and often come home to find themselves in harm's way again fighting a new enemy. 
The VA is working hard to improve their mental health services, but more must be done.
We must eradicate the epidemic of veteran suicide.
Our country needs the National Center for Healthy Veterans (NCHV) to alleviate the behavioral and mental health challenges our veterans face.
The NCHV is a comprehensive solution that leverages private sector resources, expertise, and proven faith-based programs.
Call: (888) 317-4677
National Center for Healthy Veterans
980 Wards Rd, Altavista, VA 24517
Co*****@He*************.org

VetComm was founded as a VETERAN FIRST organization in response to disabled veterans complaining about having to choose between the free, but "low and slow" rating service provided by veteran service organizations, and the "profit first" companies that overcharge or defraud many veterans, yet turn away thousands of others, because they're are considered "unprofitable." VetComm does not "sell" a veteran disability claim filing or compensation service. We provide no-cost general claims information to all members and expert guidance to our Gold Services Members.